Generally pitches and presentations do not suffer from a lack of effort and hard work- research into the subject and the audience, development of an idea, a proposition and the supporting argument, a storyline or script and the visual aids/charts.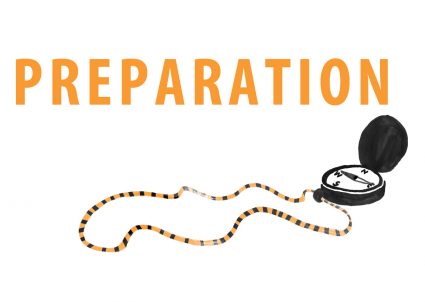 A lot goes on but, generally, at the expense of time spent in preparation for the performance at the end of it all, the performance, the way everyone comes across, which will determine success or failure . Professional actors perform for a living. Here is how one actor answered questions on preparation.
How do you approach preparing for performance?
Every actor has their own way of working. After time you find what works for you. There are two types of preparation for me: preparation that happens in the lead up to, and over the rehearsal period, and preparation that happens in the hours before the play begins.
During the rehearsal period my own private preparation work includes a lot of research and daydreaming, reading the script quietly to myself repetitively so that I become familiar with it.
Before I go on stage my warming up preparation includes doing a relaxation, stretching my body out, warming up my voice, and then going through my lines quietly to myself.
How do you handle the different demands of a script?
I break up my script into sections, or units, based on when my character changes tactic in a scene. This helps me focus on smaller sections of the script so that I can work on giving a more detailed, less generalised performance. Each unit is like each point in a speech.
At the beginning of each unit I write my intention, for example: to convince, to charm, to seduce, to make someone understand me, to inspire, to excite, to calm, to reassure etc. When I have worked out what my intention for each unit is, I focus on using my words to land my intention.
I underline key words to give more gravity to what I am saying.
How do you make the role your own?
When I start to read my script aloud I tend to move around a lot, or go for a walk. I physicalize what I am saying with my hands and my body, sometimes even in an overly exaggerated manner. I sometimes even stomp as I am learning my lines. All of this gets energy moving through the body, helps me lose any tension, makes me feel relaxed, and gets me out of my head.
The more embodied your script is in you, the more ownership you have over it, the more it is you. To me, performance is ownership of what you are saying and doing.
What steps do you take to connect with your audience?  
I try to say my lines as many different ways as I can so that I don't get stuck in a habit.
I try to find a need to speak – I think of my lines as a need to communicate, rather than just a pre-prepared speech. No-one wants to hear something prepared. People want to feel like you are saying what you are saying to them and only them for the first time.
What do you look to get from rehearsal?
Emotional connection and clarity in what I want and what I am saying. To be comfortable with any blocking (movement on the stage) so that I don't have to think about it – this comes from repetition. The more you can say your lines and do your movement over and over again in rehearsals, the more you can be free in performance.
Can you rehearse without an audience?
Yes. It is good to take time working on the script without the added pressure and nerves of rehearsing in front of an audience. You can get familiar with the script on your own.
However, it is then very helpful, if not essential, to have someone to rehearse with – to speak to, so that you stop thinking about how you sound, and you start focusing on how you are affecting the person you are speaking to. The most engaging actors are those who are focusing on who they are speaking to, not on themselves.
 "An ounce of performance is worth pounds of promises."
― Mae West